Reception
Reception National Curriculum Coverage
Teacher: Mrs Taylor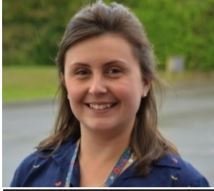 Hello, I am Mrs Taylor and I will be teaching the Reception class four days a week from September. I am very pleased that I am the lucky teacher that is welcoming you in September, and that I will be at the start of your school journey at Meadowside Academy.
I have two children of my own. My eldest is heading into Year 2, and my youngest has just turned 3. I can sympathise with your grown-ups and I know you and your family will have lots of emotions about coming to school. I will do everything I can to make you feel safe, reassured and have lots of fun....and help the grown-ups feel reassured too. Reception is such an exciting messy, action packed classroom, full of curiosity and magical bursts of learning. I love Reception because I love watching the foundations of learning grow. It's so rewarding to see you arrive as little ones, and then leave being able to read, write, draw, paint, imagine, enquire, experiment, add numbers, subtract numbers, recognise shapes...even share and compromise... and all the other wonderful things you absorb and learn.
When I am at home, I don't have much spare time when I am running after my own two children. We do most things together. We love spending time outdoors, anything crafty and snuggling up on the sofa with popcorn to watch a movie. We love books in our house! I love reading my own books, but I also treasure sharing stories with my children. Our favourites are the 'The Snail and the Whale', 'Mr Big' and 'Superato'. We sing and dance lots in our family (especially in the kitchen), but I apologies in advance for my singing voice. I am sure that your beautiful voices will out shine mine.
I am so excited to properly meet you and show you our beautiful classroom. I know you are going to love spending time in our Reception classroom! You are going to make so many friends and memories, and I will always be there to give you a helping hand in anything you need.
Have a lovely summer and I look forward to hearing all of your exciting stories and news.
Mrs Taylor
Here is the Link to our Reception Blog:
In Reception, we use Tapestry to communicate with grown-ups at home and show off all the super things the children do in school. Tapestry allows parents and guardians at home to see the learning journey the children go on each day.
'If you are having trouble accessing your child's Tapestry account then please contact Mrs Taylor directly.
| Name | |
| --- | --- |
| Reception Summer Term 2 Newsletter.pdf | Download |
| Reception Summer Term 1 Newsletter.pdf | Download |
| Reception Spring Term 2 Newsletter.pdf | Download |
| Reception Spring Term 1 Newsletter.pdf | Download |
| Reception Autumn Term 2 Newsletter.pdf | Download |
| Reception Autumn Term 1 Newsletter.pdf | Download |
Showing 1-6 of 6